This is the EUC Facilitator eBook guide which supports the training of the same name and is best used by those who have completed that or similar training. It's FREE with Training
Keys' created this guide and the accomplying certification training in Emotional Urgent Care (EUC). EUC provides emergency psychological care to victims in crisis, to assist them in returning to an adaptive level of functioning and to prevent or limit the potential negative impact of emotional trauma.
Every traumatic event is different, but all in-crisis require immediate intervention to interrupt and reduce crisis reactions and restore affected individuals/organizations to their previous level of functioning. Emotional Urgent Care provides victims with emotional crisis intervention, targeted to the particular circumstances of the traumatic event and their response to it.
Emotional Urgent Care – It is important to note that crisis intervention response counseling is not psychotherapy. Crisis intervention response counseling:
short –term intervention
targeted & focused on:

minimizing trauma
protecting against the developing mental health disorders
developing a plan to return emotional wellness &
helping them return to normality.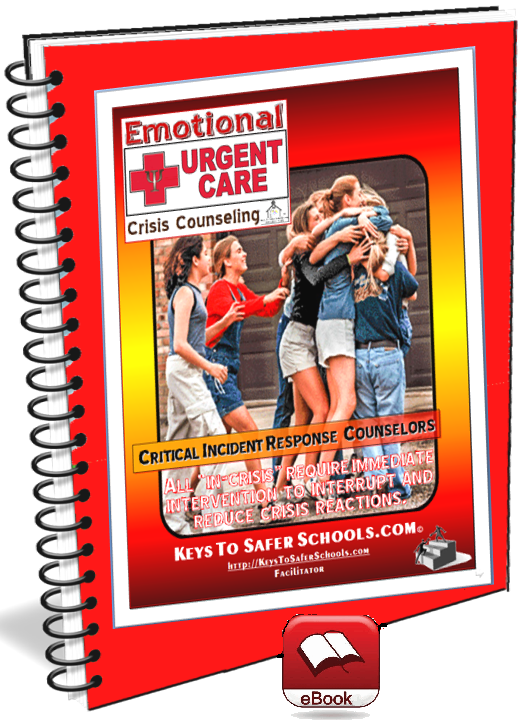 EUC utilizes an acronym – T.r.i.a.g.e. S.t.e.p.s. to define a systematic crisis intervention process that is flexible and based on the emotional needs of those in-crisis. It is a targeted and short-term service. The Triage Steps establishes a road-map of the actual roads, highways, and directions an individual or organization will take on a trip from their response to a traumatic event toward Emotional Wellness.
These phases guide professionals as they move those affected from;
triaging traumatized individuals -to-
allowing them tell their story -to-
establishing a follow-up plan.
This training is available for Professionals servicing ages:
Six through Twelve year olds,
Twelve through eighteen year olds and
Adulthood