EMPOWER-U Guide: It is based on a Three Tier System for District, Juvenile Faculties, & other Youth Organizations. It is designed to Evaluate, Motivate and Pursue excellence in students. To help them Overcome barriers, Work hard to Ensure they Reachtheir goals. EMPOWER-U ' three-tiered support model allows educators to identify the behavioral needs of all students, match the level of support to the severity of their behavior problems, and then assess the students' response to instruction and intervention. It promotes a comprehensive and collaborative approach to developing all students' social, emotional, academic and physical competencies, and to reducing barriers to learning due to behavioral/mental health issues. The integrated instruction, tools and intervention of this guide is delivered to students in varying intensities (multiple tiers) based on student need. The guide delivers a model that is "Needs driven". Decision-making seeks to ensure that district resources reach the appropriate students at the appropriate levels in hopes to accelerate the performance of ALL students to achieve (emotionally, behaviorally and academically) and/or exceed proficiency. This guide has multiple components that are designed so that the program can be specialized for your district, organization or Juvenile facility. It can be based on a multi-tier system with ALC "schools-within-a-school", it can be incorporated within the Rti system, their is a free standing component for an ALE School or a Juvenile Based ALE School and lastly, the covered program design can accommodate a School Based or Off site Mental Health Day Treatment Program. FREE with Training: Learn More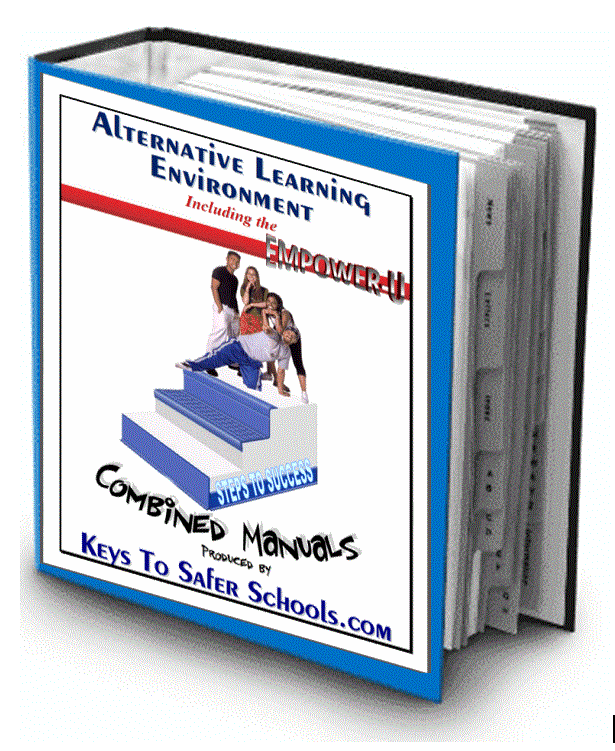 What's Incuded in Guide?
Empower-U Components:
Component 1:
Alternative Learning Environment– A Level System:

How to Utilize a Level System

How Does a Level System Work?
Is Movement Upward Only?
What are the Advantages of a Level System?
What will the Level System do for Us?
What do we need to get Started?

Tools for the Development of a Level System
Component 2:
Behavioral Management of Disruptive Students

How to Manage & Extinguish Severe Behavior

Understanding Behavior
Determining it's Function in a Student
Identifying Replacement Behaviors
Looking for Possible Interventions and
Crafting a Positive Behavioral Plan to
Extinguish the Inappropriate Behaviors and
Ways to Measure the Progress

Tools to Measure & Develop Program
Component 3:
Anger Management/De-escalation "AMD" - Huan Ju, the Art of Redirection

Controlling Anger – Before It Controls You

Anger Management, Self Control & more

How to prevent it

Anger Interruption Methods & more

Intervention To Classroom Anger

Power Struggles, How to Break up a Fight,
Redirection & more

Therapeutic "None-Pain Inducting" Hold Technique System
Correction – Restoring Control

Consistency, Reporting & more
Component 4:
Bullying Stops when Respect Begins

Anti-Bullying

Cyberbulling,
Victim, Bully, School & Parent

Student Workbook – Exercise

Exercises: Power Struggles, Perceptions, Self-Worth & Much More…
Empower-U School – ProSocial Skills offered will combine with the District/Schools Academic piece:
*Academic Intensive interventions *Nontraditional/Flexible setting *Highly Qualified Teachers (HQT) * Re-entry Program *Character education curriculum *Rigorous curriculum with innovative strategies (Distance Learning) *Academic Assessment *Modifications in learning environment & curriculum pacing *Credit Recovery *Job Readiness available *Low Student-to-Staff ratio *Ensuring delivery of services for those in need through SoC referrals.
Academic interventions should include:
explicit instruction of skills (e.g., academic skills),
structured prompts for appropriate task following,
opportunities for the student to practice new skills in the natural setting, and
frequent feedback to the student and communicating regularly with a student's parents.
Provides guidance in developing ProSocial skills, ex; solving problems, emotional management and to assist students to successfully becoming members of school and community.
SYSTEM OF CARE – WRAP AROUND SERVICES
Intensive Treatment Intervention Strategies– Mental Health Services onsite (The Inspire-U Program for Mental Health Providers)
* Anger Management * Empathy Skills * Re-entry Services * Cue Recognition (self/others) skills * Impulse Control * Social Skills * Replacement Behavior Skills * Conflict Resolution Skills * Challenging Irrational Beliefs *Decision-making skills * Self-Talk/Self-Monitoring * Relaxation/Stress Management Training *Adaptability/Flexibility Skills
Therapeutic Intensive interventions:

Group Therapy, Individual, Case Management, Med. Management, Family Therapy, Risk Assessment, After-Hours Crisis Services and Screening/Referrals.


Support Services Connections

Developing Effective Support Service Connections (SSC) to help students & Parents:
* Developing Successful transitions across SSC * Linkages to empower students to become successful by working very closely with schools, parents, social services and law enforcement. * Assist problem adolescents to become active, healthy participants in society
Providing an array of referral services through SSC:
* Drug/Alcohol Intervention Services *Job Readiness Serv. * Child Welfare/Family Preservation Serv. * Housing Serv. * Food Serv. * GED Serv. *Pregnancy Serv. * Minor Medical Serv. * Targeted Supportive Serv. & Crisis Response Strategies * Re-entry Services * Probation/Court Serv.