Conflict Resolution: Turning Conflict into Co-Operation (Facilitator Edition)
This Guide is presented with today's schools and students in mind; however, it applies to anyone who routinely finds himself or herself in conflict with another person. Learn how Guide is FREE with Onsite Training
This Online Training comes with our Extensive eBook Guide.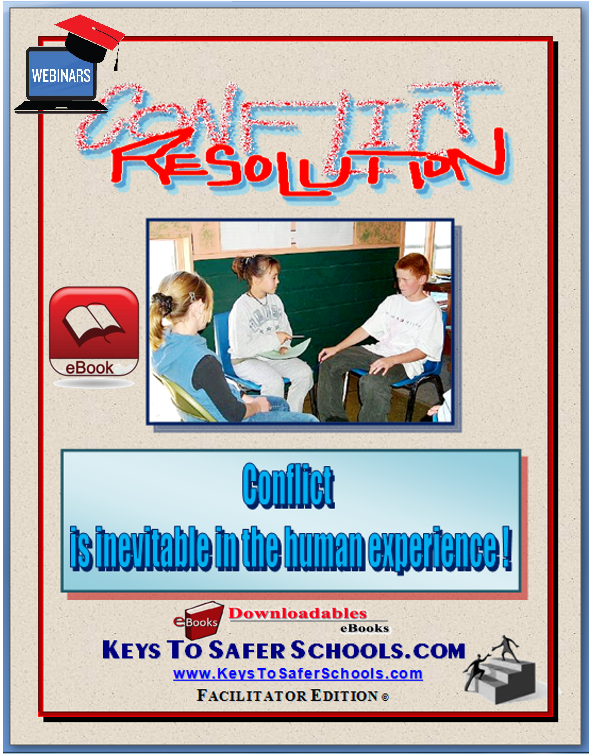 The Conflict Resolution ebook Guide - Turning Conflict into Co-Operation is based on International level research and contains information on managing conflict with student.
Those who utilize this eBook Guide will learn:
Why there is conflict; its root causes; that it can be good or bad

How to identify someone style of handling conflict

Different ways that people handle conflict

Techniques for solving our own conflicts

How to find help with conflicts from peers; from outside mediators
If conflict is so prevalent, does that mean that we are surrounded by bad people. Not at all. In fact, conflict is not bad. It is how we react to it that can be bad.
For the purposes of this guide, it focuses our attention on the aspects of conflict that are usually disruptive and how we can bring resolution to those conflicts. The guide looks at the sources of conflict.
There are two primary sources that will be discussed:
Socialization and
Expectations
The Guide introduces practical exercises that will guide the participants through techniques that can be taken back to the classroom or workplace and passed on to students and/or peers.
Table of Contents
Section 1: The Nature of Conflict
A. Socialization
· Family Values
· Racial and Ethnic Differences
· Family Roles/Birth Order
B. Expectation
· Perceptions
· Stress
· Peer Pressure
C. A Word about Anger
· Neither Good nor Bad in itself
· Secondary Emotion
· Interferes with Conflict Resolution
Section 2: Styles of Dealing with Conflict
A. Bunny
· Shy or Scared
· Avoids
· Pretends
B. Tiger
· Aggressive or Fights
· Fierce
· Intimidates
C. Owl
· Wise
· Fair
· Problem Solver
Section 3: Paths to Resolving Conflict
A. Exercises
B. Mediation
· Peer Mediation
· Outside Mediation